My name is Patrice and Clueless is one of my all time favorite movies! Yup I even have a poster in my home of the movie! I have no idea why I really like this movie, but I do! I can watch it everyday! One of my most favorite parts in the movie is when Amber and Cher were debating each other in front of class. Amber hit Cher with the iconic (or at least I think so) whatever!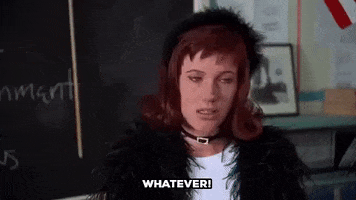 A couple of years ago I discovered Philippians 4:8 and immediately thought of my childhood friend Amber (I even made the hand symbol seen above)...lol.. I liked this scripture but honestly didn't dive deeper into it until this year. This year is when I needed to meditate and memorize this scripture because this year my mind became a battlefield. My thoughts focused on all the negative, I began shutting loved ones out, my moods shifted, I withdrew from God and I became cynical and angry. All of these battles raged inside while on the outside I tried to maintain the joyful demeanor I have been known for. I was struggling. Big time. BUT GOD! He never leaves us to struggle alone.
He led me back to Philippians 4:8 and this time I dove in deeper.
Finally, brothers and sisters, whatever is true, whatever is noble, whatever is right, whatever is pure, whatever is lovely, whatever is admirable—if anything is excellent or praiseworthy—think about such things. Phil 4:8
This scripture revealed that my mind didn't have to be this battlefield. That I have control over my thoughts and that there are specific areas I can focus on. Those areas I like to call the TOP 8.
TRUE. NOBLE. RIGHT. PURE. LOVELY. ADMIRABLE. EXCELLENT. PRAISEWORTHY
This TOP 8 has been my guiding light. Whenever I feel my mind spiraling I grab ahold to one of the eight. Some days it's something LOVELY that I noticed or witnessed. Other days it's something ADMIRABLE or PRAISEWORTHY, like when a friend accomplishes a big task or goal. And some days it's something that is TRUE, like the fact I'm accepted and loved by God. These TOP 8 have helped me gain control over my thoughts, emotions, and relationships.
I want to encourage you friend to think of WHATEVER (go ahead and make the Amber symbol)! Whatever is true, noble, right, pure, lovely, admirable, excellent, or praiseworthy. WHATEVER! Choose one and think about it. The next couple of days I challenge you to monitor your thoughts with no condemnation. Set reminders on your phone a couple of times a day to check in with your thoughts. If your thinking is aligned with the TOP 8 great! If not then adjust by any means necessary.
We have been given a sound mind (2 Tim 1:7). It is time to fully operate in that gift.
WHATEVER my friend . WHATEVER!
 In His Love,
Patrice